We're Part of the Appalachian Trail Community
In 2014 the Towns of Dover and Pawling were declared Appalachian Trail Community members in recognition of our support and preservation of the AT as a local and national asset. To support the trail, its through hikers, and day hikers, the libraries teamed up to educate people about the trail, and to install  Little Free Libraries at the Wiley and Telephone Pioneers Shelters.
Little Free Libraries for Hikers
Little Free Libraries are the "take a book, leave a book" gathering place where people  share their favorite reads. The Pawling Library put up a LFL at the Telephone Pioneers Shelter, and the Dover Plains Library put one up near the Wiley Shelter. The LFL's provide reading material for all hikers passing through the shelters who want a book to keep them company on the rest of their journies.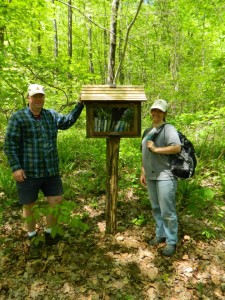 Backpacks
Thanks to the Harlem Valley Appalachian Trail Community, we now have backpacks available for you to check out with your Library card! This generous donation includes: a backpack to carry your water, lunch and other supplies; binoculars; a
bird guide; local trail maps and brochures featuring information such as animal tracks, Great Swamp wildlife, and more. If you've been wanting to get outside, come borrow one of our backpacks and head out to enjoy any of the amazing natural trails right here in your own beautiful back yard – the Harlem Valley!
What better family fun activity – that's FREE – can top that?